For a long time, WordPress was the answer to everything.
Need a blog? WordPress.
A startup website? WordPress.
An online portfolio? WordPress again.
Hell, you could even build a full-fledged e-commerce store on WordPress.
WordPress was successful because it was so easy to use. I remember setting up my first website with WordPress. It was pure joy. There I was, a high school student, uploading folders after folders via Filezilla. I felt like I had superpowers.
Long before "no-code" was a thing, WordPress empowered tech peasants like me and many others to create stuff online. With its humongous amount of themes and plugins, it has now grown into its own rule 34: if you can imagine it, there is a WordPress of it.
Yet, here I am telling you that WordPress is no longer the answer to everything.
The new builders are better than WordPress
Over the past 10 years, WordPress has become a platform that addresses widely diverse verticals.
Do you know what happens to an overstretched platform? Unbundling.
(Actually, I was just finishing up this paper when Harry Stebbings tweeted the following)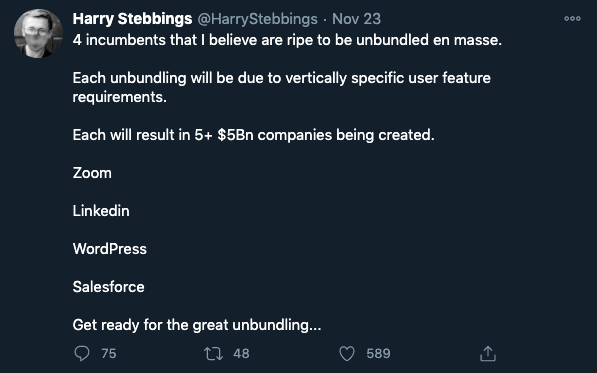 Unbundling is defined as "newcos who aspire to take a chunk out of that platform by better addressing the needs of a specific vertical within that platform - by creating a user experience or business model that is much more tailored to the unique attributes of that vertical".
Indeed, a new breed of website builders has emerged. Webflow in 2012, SamCart in 2014, Carrd in 2016, Substack in 2017, Umso in 2018... None of them can do everything WordPress does, but each of them does a better job than WordPress for a specific vertical.
Those new builders have joined an already rich landscape of WordPress alternatives, and they are all actively working to unbundle WordPress.
For the sake of simplicity, I'll call them "no-code website builders" moving forward.
Here's my first attempt at mapping the landscape.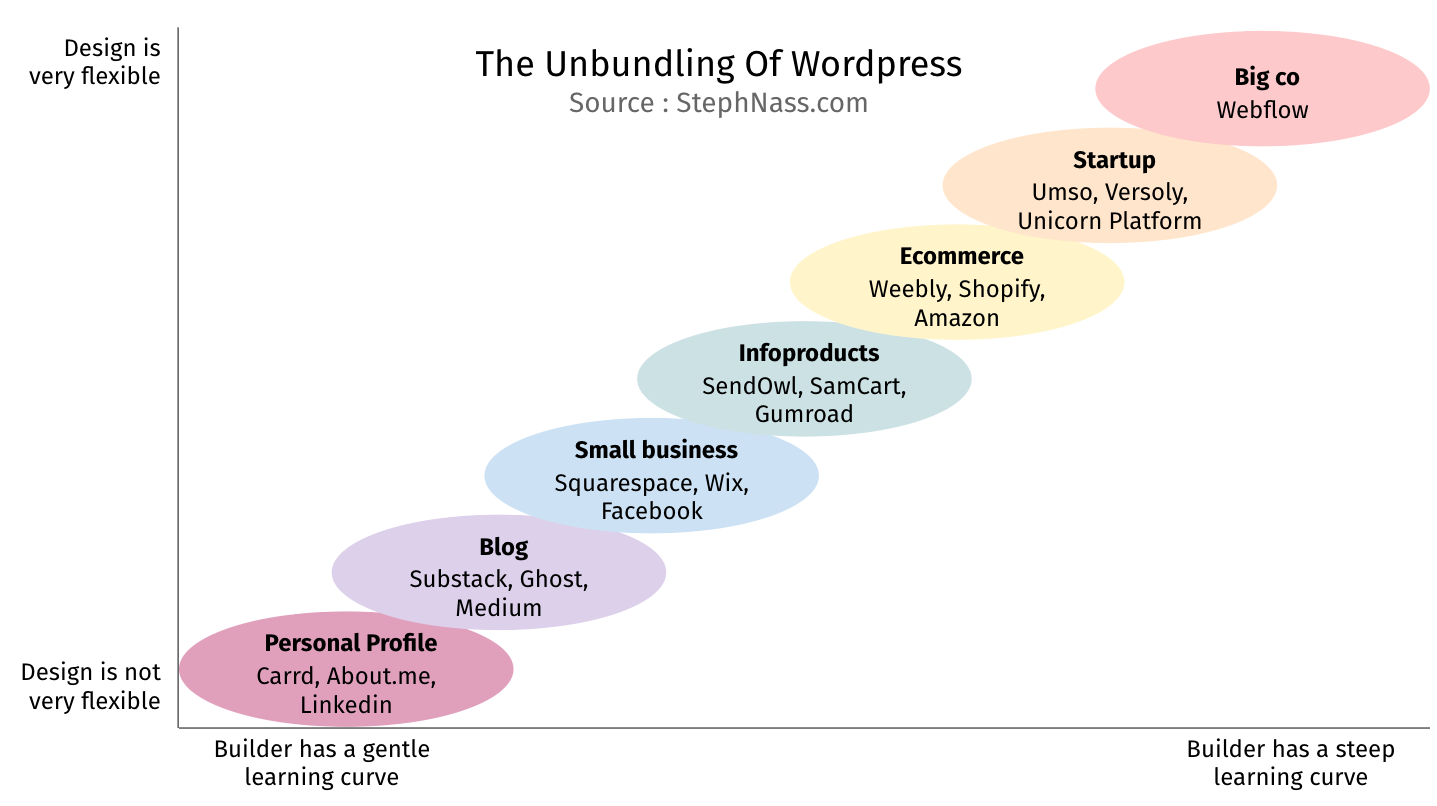 Bottom line: stop using WordPress for everything. Instead, use the right builder for the right vertical.
As a side note, all the solutions listed above are stand-alone. They live in their own silos. Going even further, some platforms have become alternatives to website builders:
Linkedin for personal profiles
Medium for blogging
Facebook for small businesses
Gumroad for infoproducts
Amazon for e-commerce
This is an even more radical approach to unbundling WordPress - barebone features with a built-in audience for the specific vertical.
Those who seek to please everybody please nobody
Versatility and complexity are two sides of the same coin.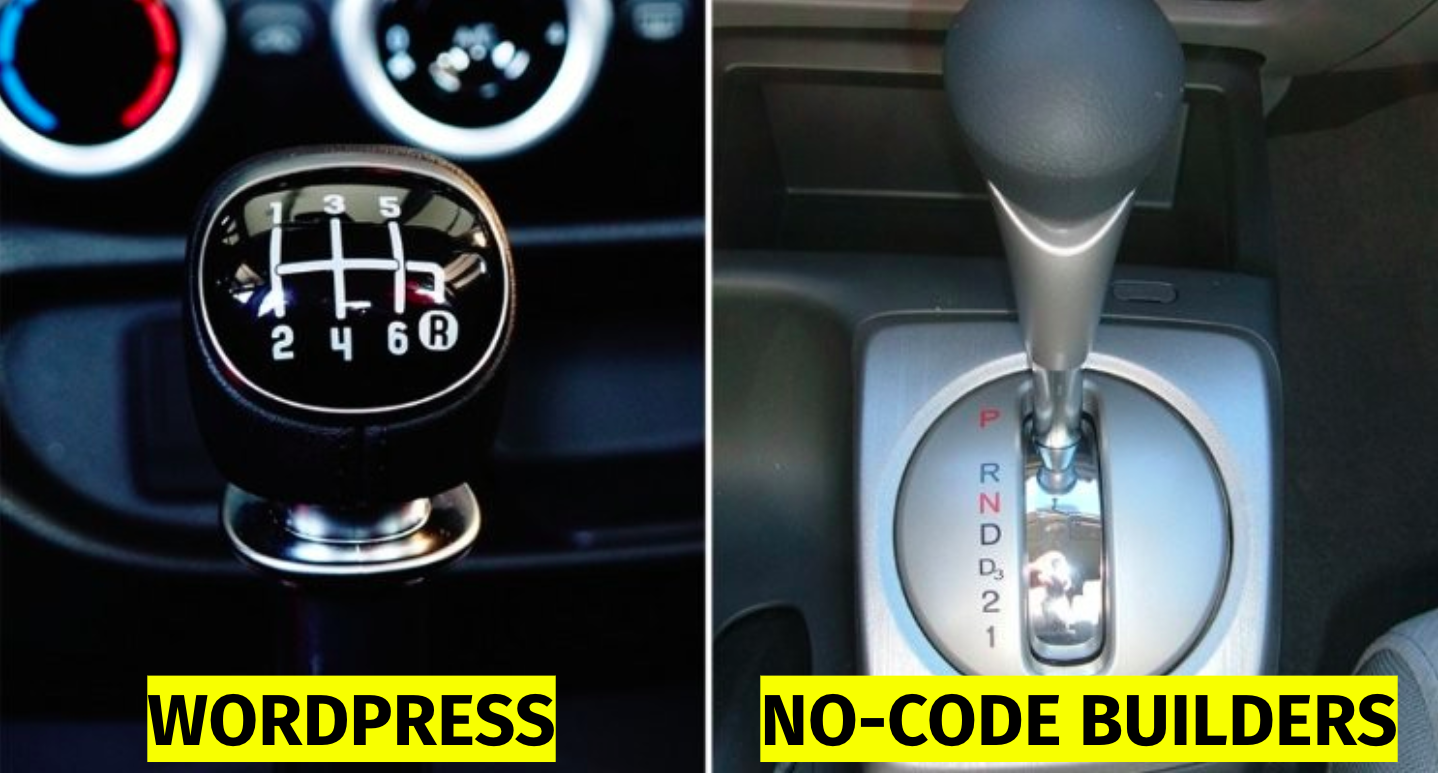 In the case of WordPress, the versatility allows it to address many verticals. But with versatility comes complexity - what I call the "7 cardinal sins of WordPress".
Clunky UI. WordPress is sometimes described as "bloated" for a reason. Yes, you can customize the interface, but that's another plugin - and that's assuming you know how to do it right.
Steep learning curve. You cannot just sign up and start building. It actually takes time to set up WordPress, get familiar with the features, and learn to build things the right way. That's a big no-no for first-time users.
Obscure pricing. WordPress is free. Hosting is not. Themes are not. And plugins are certainly not. You never know exactly how much you will end up paying for your project.
Tricky updates. All the parts have to be maintained up-to-date and every major update is a source of stress. "WordPress update failed" returns 62M results in Google.
Vulnerability. Every plugin is a weak link that can be sold, hacked, bugged.
Suboptimal SEO. It is easy to make WordPress run slow, and hard to make it run fast.
Choice overload. WordPress is always asking you to make decisions. To this day, I never know for sure if I am using the right hosting, theme, editor, plugin, or setting for my needs. This is an endless source of frustration.
Now, let me be clear.
None of these points is a real issue for an experienced developer who can put in the hours. For most people, however, this complexity just gets in the way when trying to build whatever they want to build.
WordPress is flawed by design. Because it wants to satisfy every single use case, it is too complex for simple people with simple needs.
By contrast, the no-code builders offer:
Just the right amount of features with just the right interface
Gentle learning curve. Your first website is live within hours
Predictable, transparent pricing
Updates done for you
Security done for you
"SEO-friendly" (eg. Squarespace) or even "Built for SEO" (eg. Versoly)
Instant and continuous gratification
The no-code builders set you up in an environment where failure is impossible by design. They are Mac to PC, automatic transmission to manual cars.
They are the dumbed-down products that make the average Joe feel good about himself, but also allow him to fulfill 90% of his needs in 1/10 of the time with no external help.
WordPress is just not about that.
Why won't people let go of WordPress?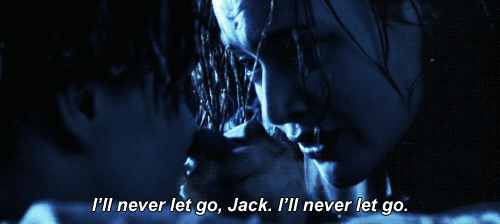 First, WordPress is the OG. It was the entry point to our first blog or our first business on the Internets. There is an undeniable attachment to the name and the brand.
Second, WordPress is free. I've heard time and time again "Why do you recommend XX builder when WordPress is free?!". Website builders are not necessarily better when free. The downsides of WordPress are real, and $20 per month is a meagre price to pay for a superior solution.
Third, WordPress has a strong ecosystem, including its open-source contributors and the vendors who make a living out of it (Fiverr returns 82,183 results for "WordPress" services). These people are very good at promoting WordPress online - even when it's not the best fit.
By the way, here are the "market shares" of WordPress and Shopify amongst the top 10 million most visited websites in the world. Source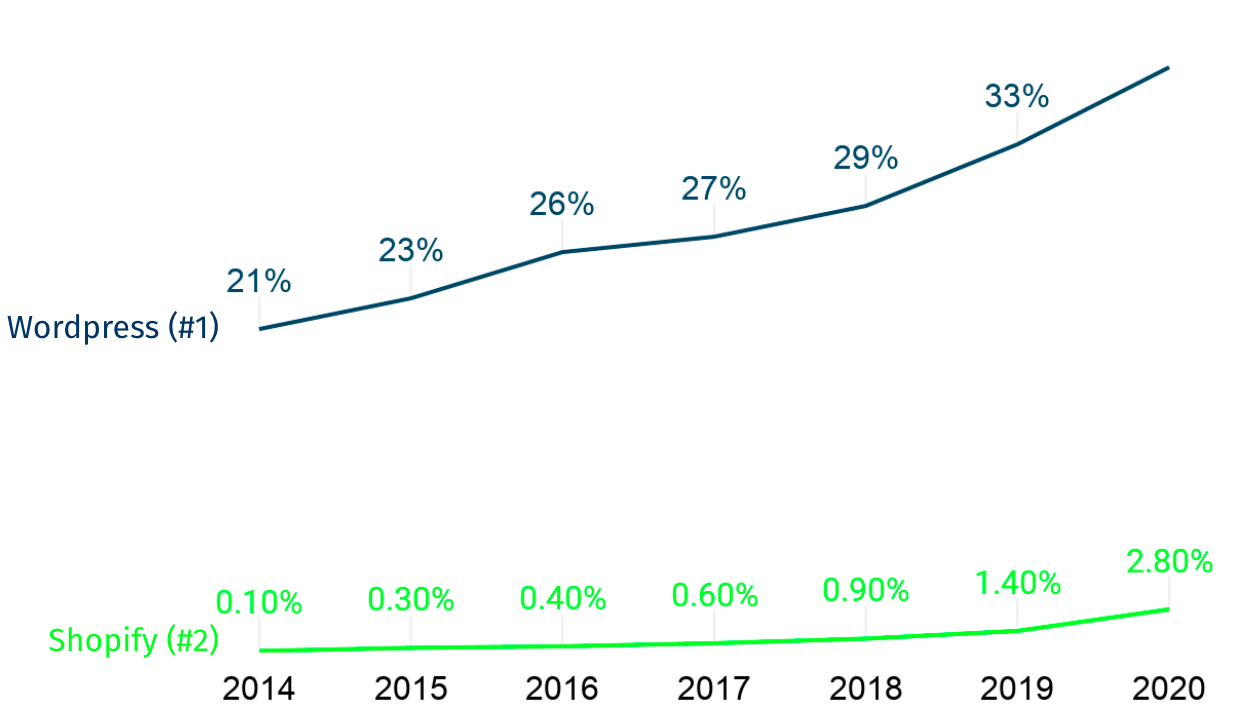 In 2020, WordPress powered 38% of the websites in the world. Shopify powers 10x fewer websites, and it's the closest contender.
WordPress reigns supreme - and its domination grows with every passing year.
No-code has eaten WordPress' breakfast
What's the takeaway?
WordPress is still the best option if you have the time and expertise to handle complexity and you want 100% ownership over your data. In other words, WordPress is still worth it if you are a "bigger" company or an experienced creator who wants total control.
Here's what my friend @juanpablosarmi, founder of Artify and a legit technie, had to say about it:
So yeah, WordPress is not going anywhere.
But
WordPress is no longer the entry point to creating a website.
If you are a beginner, Carrd, Squarespace, Versoly, etc. are better options by a mile. The next generation of website creators will learn to create on those builders, not on WordPress.
And
WordPress is no longer the easiest way to build a website.
If you have a simple project in mind, Carrd, Squarespace, Versoly, etc. are also better options by a mile. Even an experienced developer would get value from using those builders for simple projects.
This is a massive change. Beginner's projects and simple projects have been WordPress' turf for a long time. They were WordPress' breakfast. Now, they're gone.
I am looking forward to a future where no code builders can handle the most robust, complex cases, and eventually, eat up WordPress' lunch and dinner as well.
Until then, I'll keep using both no-code builders and WordPress, according to their respective merits and limitations.
I suggest you do, too.